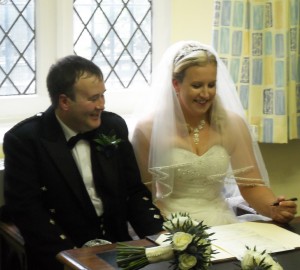 If you have recently become engaged, your thoughts may now be turning to planning a wedding.  In the Church of Scotland, ministers conduct marriage ceremonies for church members and for members of their families.  They also conduct weddings for those who live within their parish bounds.  If you are considering a wedding within Pathhead Parish Church please contact the minister via the church office (01592 204635) to arrange an appointment with the minister.  He will guide you through the process and explain what marriage means within a Christian context.
If you have previously been divorced this does not preclude the possibility of a church wedding.  However, the minister must be satisfied as to the circumstances surrounding any previous divorce.  Marriage brings many joys but it also brings many responsibilities and should not be undertaken lightly.  In Christian marriage there is an understanding that this  ought to be a  life-long commitment.  Christians believe that with God's help, it can be a blessing to any couple and to society as a whole.
Hymns for a Church Wedding pdf
1st Corinthians 13:1ff — The Nature of Love
If I speak in the tongues of men and of angels, but have not love, I am only a resounding gong or a clanging cymbal. If I have the gift of prophecy and can fathom all mysteries and all knowledge, and if I have a faith that can move mountains, but have not love, I am nothing. If give all I possess to the poor and surrender my body to the flames, but have not love, I gain nothing.
Love is patient, love is kind, It does not envy, it does not boast, it is not proud. It is not rude, it is not self-seeking, it is not easily angered, it keeps no record of wrongs. Love does not delight in evil but rejoices with the truth. It always protects, always trusts, always hopes, always perseveres.
Love never fails. But where there are prophecies, they will cease; where there are tongues, they will be stilled; where there is knowledge, it will pass away.
For we know in part and we prophesy in part, but when perfection comes, the imperfect disappears When I was a child, I talked like a child, I thought like a child, I reasoned like a child. When I became a man, I put childish ways behind me.
Now we see but a poor reflection as in a mirror; then we shall see face to face. Now I know in part; then I shall know fully, even as I am fully known.
And now these three remain: faith, hope and love. But the greatest of these is love.