Regular Worship Returns
We are pleased to announce that our congregation has returned to worshipping in the church sanctuary these past number of weeks.  We continue to offer Zoom to those who cannot physically join us on a Sunday morning.  
We await further updates from the First Minister but for now the restriction of having to wear masks in church is still mandatory along with other regulations which are still in place.  A fuller description of these can be found below in the advice from the Principle Clerk, in January 2022.
Worship:- Given that the requirement for distancing in indoor venues will soon be removed we suggest that from Sunday 30 January you may wish to relax some of the extra arrangements introduced in December in response to the Omicron variant.  If you reintroduced the signage and one-way systems in December to prevent bunching these can be removed. While 1m distancing will not be a requirement, local office bearers may still wish to have at least some of the sanctuary with distanced seating as a reassurance for parishioners.
Please note that it is still a legal requirement to wear a face covering in church (as in shops, on public transport etc.) unless you are exempt. We will continue to discuss this with the Scottish Government given what many see as the anomalies which exist between our worship settings and, for example, hospitality venues.
We are seeking confirmation regarding distancing for choir/band members and those leading wedding services which was increased (in law) from 1m to 2m to stem the spread of Omicron.
Tea and Coffee after the service:- We believe that this can be (carefully) resumed from the 30th January.
 Funerals and Weddings – there continues to be no general cap on the number who can attend these services and their associated receptions.  Where these services are to take place in Church it is for the local office bearers to make decisions about safe capacity now that distancing rules will be removed from 24th January.  Mitigations should be applied including the legally required face coverings for the congregation.
 In-person meetings of Kirk Sessions, Congregational Boards, Presbyteries, the Guild and other church and community groups: – We think these can be resumed from Monday 31st January again with the familiar mitigations which were deployed last autumn; hand hygiene, cleaning of touch points, ventilation, face coverings where distancing is not possible and food or drink is not being served.
GENERAL POINTS
Mitigations:- Hand hygiene, cleaning of touch points, ventilation – should still be used for Sunday worship and weekday events. Face coverings are compulsory in services. The virus is still here.
Risk Assessments: – Given that we are still in a pandemic we need to persist with Risk Assessments and, with the changes being announced, these may need to be revisited.
Lateral Flow Testing (LFT):- We recommend that those attending services and other activities continue to take a lateral flow test prior to meeting others. The Scottish Government, with our assistance, are working on plans to use up to fifty churches as hubs for the regular distribution of LFT's to other churches and places of worship in the area. Bryan Kerr from the Covid Team is co-ordinating this work and will be in touch with churches who might be able to act in this regard.
Test and Protect Registration of Attendees: – We believe that this remains a good practice for those attending worship and a legal requirement for those sharing in hospitality.
A message from the Revd. Andrew Donald is shared below…
Great news, Zoom will continue to be a part of our congregational life, assisting those who cannot be at church on a Sunday morning.  Details of Sunday Zoom worship and Bible study will be emailed as normal.  For those wishing to know more pleased contact myself, Neill Mitchell or Colin Robertson.
Andrew Donald
Minister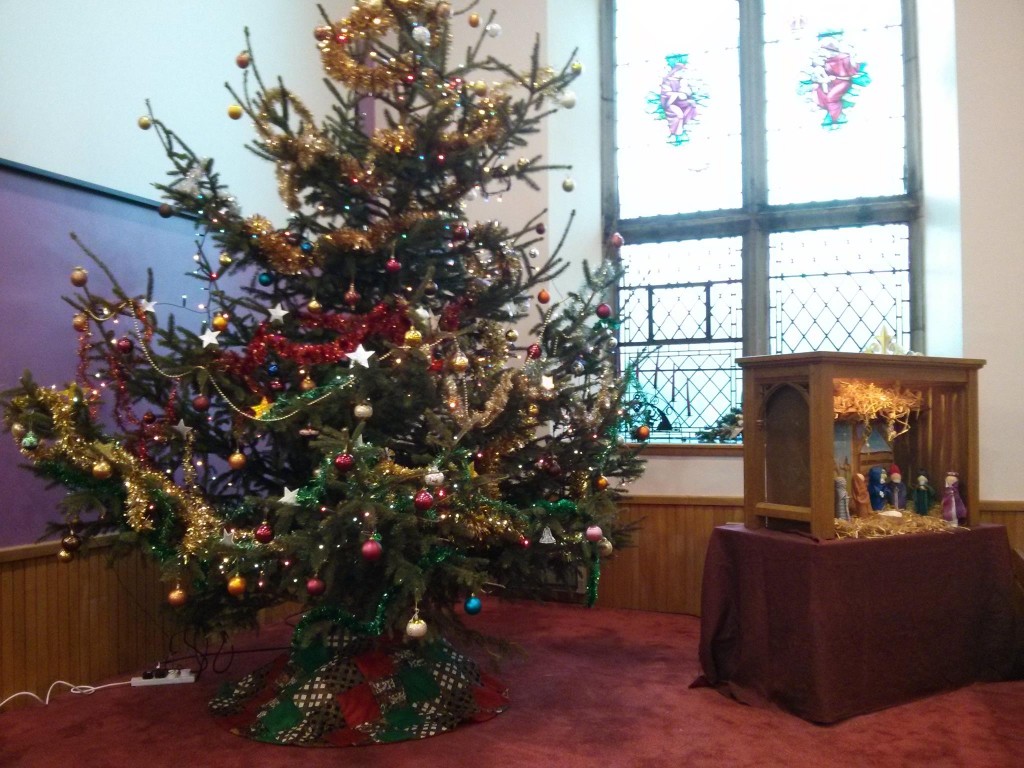 Christmas at Pathhead
Saturday 7th December – Christmas Fair.  The total raised to date is £2800.
Sunday 15th December – Messy Church and Pathfinders Christmas celebration, 2pm
Thursday 19th December – Carol Singing for MAGGIE's Fife, ASDA Superstore 6.30pm.
Sunday 22nd December – 11am Pathfinders Nativity Service in the church.
Tuesday 24th December – All age Christmas Eve Service, 6.30pm
A joint Kirkcaldy Churches service was held in Pathhead Parish Church on 27th October 2019.  A retiring offering to mark the 150th anniversary of Crossreach raised £741.  Well done everyone!  
Pathhead has celebrated its Harvest Thanksgiving Service.  Thank you to the Flower Team for the displays and to Hugh Mackenzie for lending us his model trawler for the Harvest of the Sea display.  A big thank you to those volunteers who took the flowers to parishioners afterwards.  The envelope appeal for the Bahamas hurricane disaster has raised well over £500.  And well done Pathfinder for your Harvest presentation!
Please sign up for Easyfundraising and help us to raise more for our congregation and its projects!
Easyfundraising is a way of donating to your favourite charity when you shop online.  We would be delighted to have more members supporting Pathhead in this way.  Please Google "Easyfundraising" and see how you can help us.  If you are unsure of how it works, check out its promotional video on YouTube.  We have 27 supporters now and raised over £569.
Messy Church
The next meeting of Messy Church will now be in September but tell all your friends about "Backpack" our holiday club meeting from 1st – 5th July.  See top of the page for details.
Pathhead welcomes the Kirkcaldy Speakers' Club and the Lipreading Service
We are delighted to announce that two new organisations are added to those already meeting in our premises.  We welcome the Kirkcaldy Speakers' Club which will meet on a Wednesday evening every fortnight from 7.30pm to 9.30pm through until May 2019.  We also welcome the Lipreading Service which will meet every Friday from 10am to 12noon and from 1pm to 3pm, also through until May 2019.  Contact our Church Office for further details.