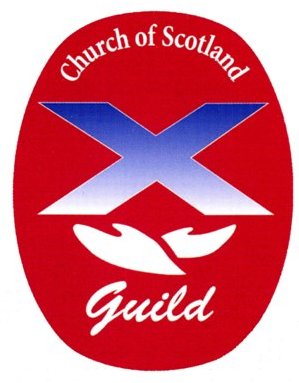 The Guild is a movement within the Church of Scotland which invites and encourages both women and men to commit their lives to Jesus Christ and enables them to express their faith in worship, prayer and action.
The title of the Guild's Strategy 2015 – 2018 is "Be Bold, Be Strong"
The Guild Theme for 2015/2016 was "Go in Peace"
For 2016/2017 it was "Go in Joy"
For 2017/2018 it is "Go in Love"
Find more information about the themes in the following pdf document
The Guild at Pathhead meet fortnightly on Mondays at 7.30pm.  There is a wide and varied syllabus and new members are always welcome.
PRESIDENT        Mrs. Nan Dick
SECRETARY       Mrs. Margaret Horn
TREASURER      Mrs Elizabeth Duncan
Theme: "GO IN LOVE"
MEETINGS: Monday at 7.30 p.m.
SYLLABUS 2017
January      23rd            Sights and Sounds of Barra
February
Church of Scotland Guild Partner Projects 2015 – 18
The theme for this year is "Be Bold, Be Strong!" and this is  reflected in the six projects which the Guild are supporting over the next three years. These have been chosen to encourage members to support them with worship, prayers and action.
Street Pastors (Ascension Trust)
There are around 12000 Street Pastors in about 350 areas in Scotland – Kirkcaldy being one of them. The partnership with the Guild will help fund the training programme for new Street   Pastors.
Breaking the Cycle of FGM (Female Genital Mutilation)
The Guild's support of this project will help to empower women and girls in Kenya to fight against this horrendous practice. This can lead to severe problems and even death. The Christian charity works in partnership to empower communities to combat poverty and injustices.
All Friends Together (Prospects)
This project is about helping churches to welcome people with learning disabilities and include them in all aspects of church life.   People with learning disabilities often have few or no friends but this project seeks to change this.
Caring for Mother Earth in Bolivia (Christian Aid)
Bolivia is one of the poorest and most unequal countries in South America where people struggle to survive. Through Christian Aid this project will work with families to educate them to deal with climate change.
Haiti Project (Mission International)
This Dundee-based Christian charity works to improve the material and spiritual lives of some of the poorest communities around the world. One of the first projects was the construction of a multi-purpose building to be used as a school, community centre and new church centre.
Let's Stick Together (Care for the Family)
This national charity aims to promote strong family relationships and to help those who face family difficulties. The sessions are specifically aimed at new mums and dads and highlight simple principles to facilitate a happy, healthy and lasting relationship.
PLEASE SUPPORT THE GUILD IN PRAYING FOR THESE PROJECTS.